VetsCars Program in Little River, SC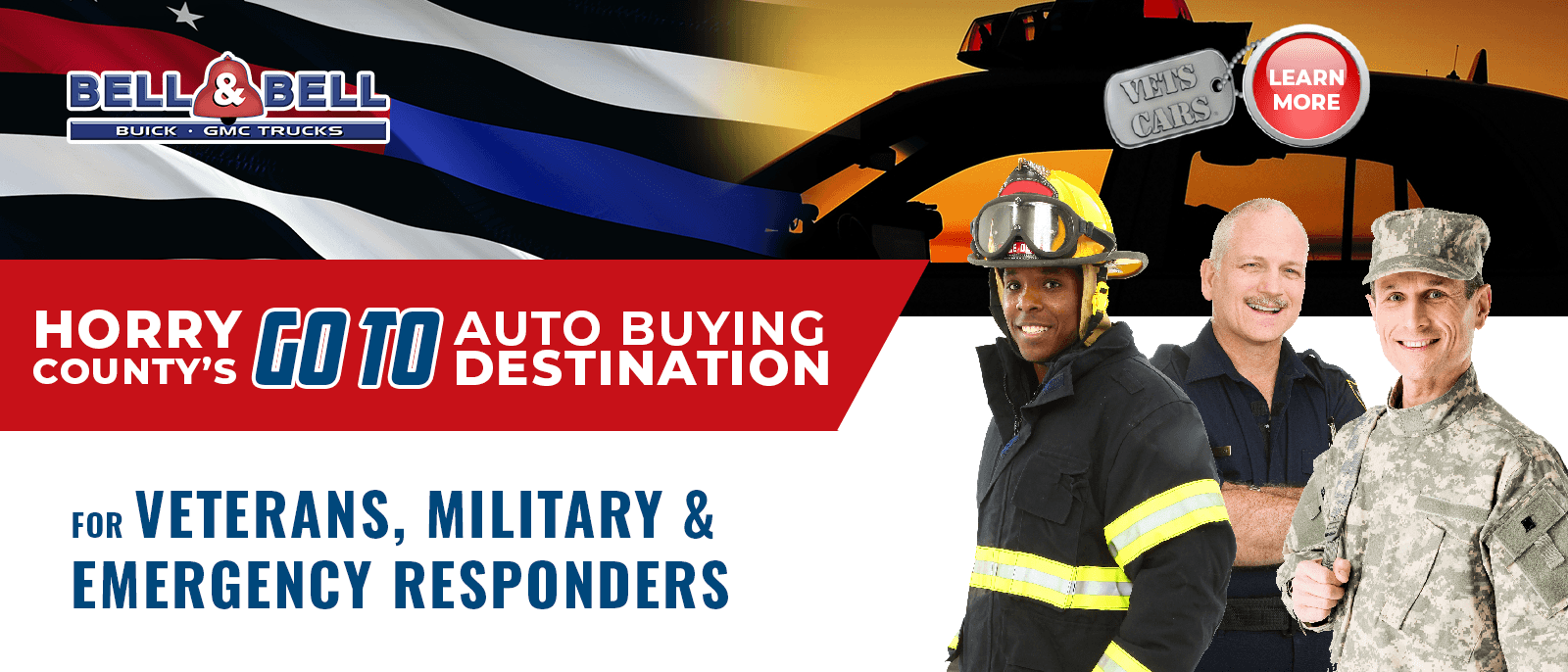 At Bell & Bell GMC, we're happy to go the extra mile for those who have gone above and beyond the call of duty in serving our country! As a proud participant in the VetsCars program, we are dedicated to providing the best discounts and automotive service to U.S. Veterans, active members of the Military, First Responders, and their family members. Check out our extensive selection of new and used vehicles and stop by our Little River dealership to see how much you can save on your next vehicle!
The VetsCars Program is Here for a Hassle-Free Car-Buying Process
As someone who has sacrificed so much to protect our individual freedoms as American citizens, you're privy to a multitude of discounts and benefits—deservedly so! With so many incentives, deals, and discounts out there, it's easy to let some of your savings fall through the cracks. We're here to make sure you save every penny possible. It's the least we could do for you and your family!
The VetsCars program is here to inform you about all the car-buying benefits available to you to ensure you find the car of your dreams for the low price you've earned. As a VetsCars dealership, Bell & Bell GMC offers a compilation of all the discounts at your disposal. From Federal, State, County, Non-Profit, and Corporate benefits, you may be surprised at how much you can save on the vehicle you've had your eye on. The specific vehicle you're shopping for may also have specific discounts available. All these incentives are placed under one easily accessible roof with the VetsCars program at Bell & Bell GMC in Little River, SC!
Shop Now
A Lifetime of Service Means a Lifetime of Savings
The benefits of the VetsCars program don't end with your vehicle purchase! Eventually, that car you've saved so much on is going to need maintenance and service. We'll make sure you receive ongoing discounts on the service you need to enjoy the open road! You can even stay up to date on all the discounts that are available to you with the VetsCars newsletter.
Reap the Benefits of Bravery at Bell & Bell GMC in Little River, SC
The VetsCars program is the coolest club a car dealership can be a part of. We're proud to be Horry County's go-to auto buying destination for Veterans, Active Military Members, First Responders, and their families. With a huge selection of new GMC cars, trucks, and SUVs, as well as an extensive inventory of pre-owned vehicles, you're sure to find the vehicle of your dreams at Bell & Bell GMC! Already have a vehicle? Stop by our service department to see how much the VetsCars program can save you on the maintenance you need. The VetsCars program is here to give you the hassle-free car-buying process you deserve. Contact Bell & Bell GMC in Little River, SC today to reap the rewards of your courage!
Contact Us